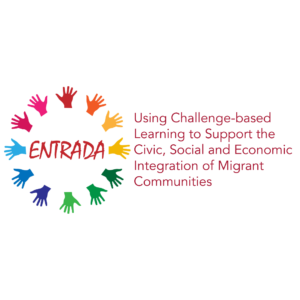 ENTRADA
(09/2019 - 08/2021)
ENTRADA is a transnational project funded by the Erasmus+ programme of the European Union and by Movetia. Our partnership strives to support the civic, social and economic integration of migrant communities using challenge-based learning.
Five partner organisations from five EU countries (Austria, Cyprus, Ireland, Italy and Spain) are involved. Additionally, one partner organisation from Switzerland participates under the funding of the Movetia National Agency.
Entrada produces 4 outputs: IO1) 36 Online Webquest Integration Resources (a suite of 36 webquests to build key competences to support the civic, social and economic integration of migrants); IO2) In-service Training Programme & Handbook (a comprehensive intervention to support the continuous professional development of adult education and migrant support staff); IO3) Online Platform (designed for a range of fixed and mobile devices); IO4) Policy Paper (a series of thought provoking policy recommendations based on the experiences of the ENTRADA consortium and its stakeholder).
Please find us on Facebook, visit our website or contact carina.posch(at)auxilium.co.at for more information.