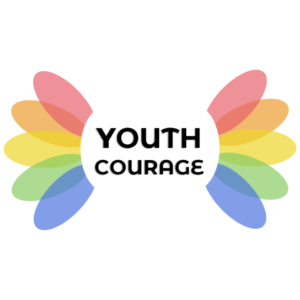 YOUTH COURAGE - You are part of the solution!
Empowering marginalised youth to reconnect with their social support system and facilitating personal growth to enable more active citizenship and solidarity. To fully answer to this aim and the needs described above, the YOUTH COURAGE project partnership works on three objectives:
Provide modern, future-proof ways to (re-)connect with marginalised youth who have lost contact with their support system in times of crisis.
Empower youth and marginalised young people to become active citizens, to take responsibility for their own physical and mental health, and to enrich their personal growth through acts of solidarity and civic participation.
Provide innovative survey instruments to capture the current situation of marginalised youth and their support workers in transnational reports to further strengthen the link to policy makers and research centres across Europe.
The ultimate goal is to make young people aware that by becoming active citizens who participate in social and civic life, they can shape the future and make it more inclusive and solidaric, while empowering them to pursue these goals. At the same time, it is important to raise visibility and awareness for the situation of the young people, especially the marginalised groups, by supplying current data from the frontline youth work to policy and decision makers through suitable research operations.
To achieve the objectives of the YOUTH COURAGE project, the partnership will implement four project results, with strong involvement of the target groups in the developments:
◼ R1: EUROPEAN YOUTH SURVEY: Investigating the post-covid situation of marginalised youth and the connection status to their support system.
◽ Engagement of 300 youth & youth workers in the transnational survey
◼ R2: YOUTH COURAGE OUTREACH FOR ACTIVE CITIZENSHIP - Social pedagogical interactive toolkit to (re-)activate marginalised youth during and after crisis.
◽ Participative, bottom-up development of new resources and updating established methodologies to longlasting, futureproof form
◽ Testing the resources with 150 youth & youth workers in all partner countries
◽ Providing an open platform to exchange best practices among youth workers
◼ R3: ESCAPE THE GLOOM: A low-threshold escape game that empowers marginalised youth to reignite their courage.
◽ Open innovation social media campaigns for young people to shape the educational game
◽ Testing the escape game in all partner countries & filming video teasers/walkthrough
◼ R4: YOUTH COURAGE POLICY PAPER: Strengthening the collaboration between frontline youth workers, research
institutes and policy makers to further investigate the situation of marginalised youth in Europe.
◽ extended re-implementation of the EUROPEAN YOUTH SURVEY (2024) with 400 youth and youth workers in more
countries
◽ development of policy recommendations based on the deductions from comparing survey results